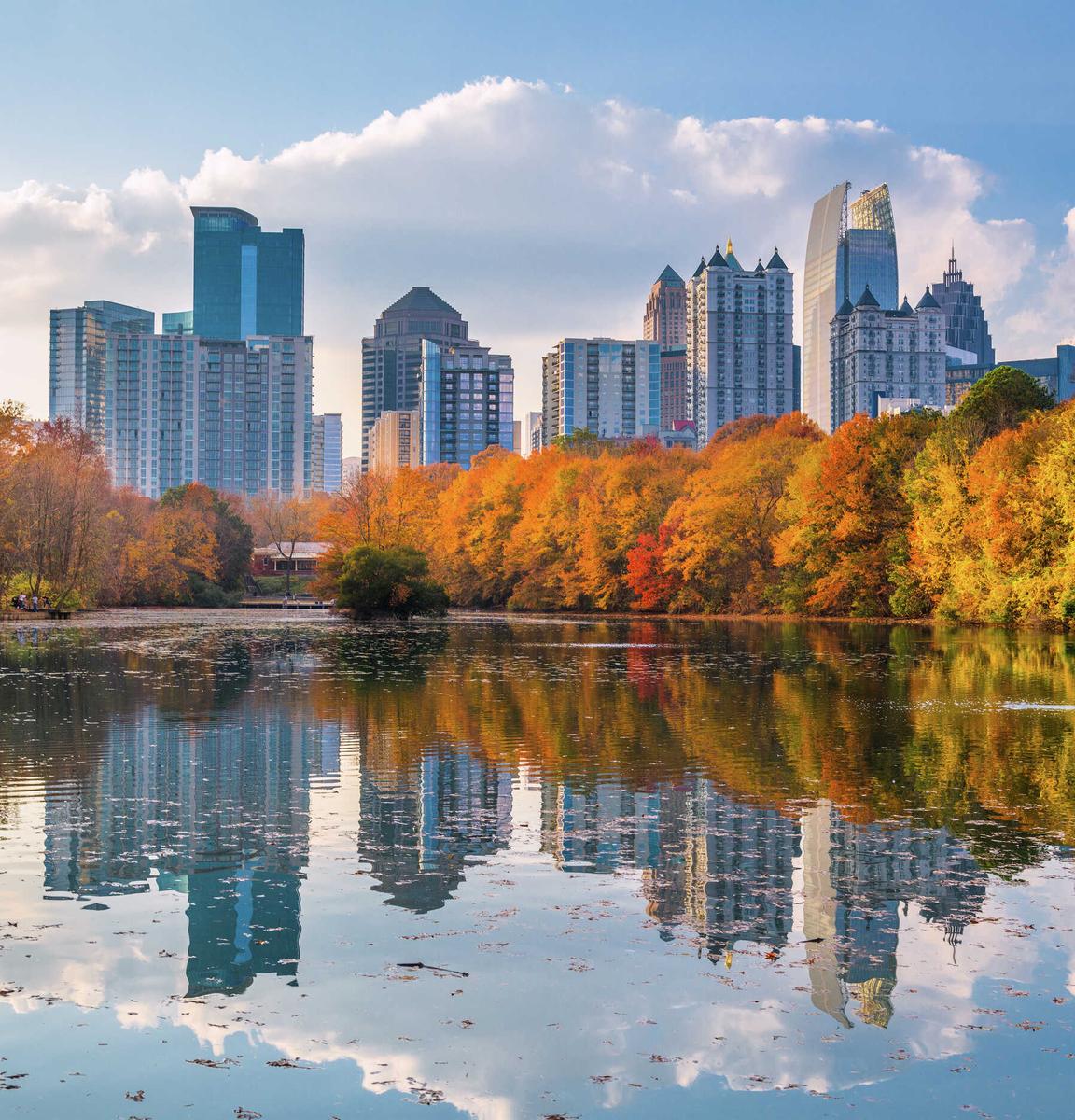 Neighborhoods in Atlanta, GA
Culture meets southern charm in Atlanta. The city is known for its rich history, music scene, sports teams and fantastic food.
Culture meets southern charm in Atlanta. The city is known for its rich history, music scene, sports teams and fantastic food.
Explore Our Neighborhoods
Move-in Ready
Ball Ground, GA
Starting from
$559,900
1,883 - 3,656 Sq. Ft.
1 to 16-Acre Homesites

25-Acre Nature Preserve

Community Clubhouse
(833) 897-0089
Call Now
Request Info
Schedule Appointment
Find Your Home Sweet Home
The scenic setting and various amenities found in our premier neighborhood in Atlanta guarantee you will enjoy every day. Paired with designer new construction homes carefully crafted to fit your needs, you will discover what it means to truly love where you live.
More About Atlanta
Atlanta, affectionately known as "Hotlanta," is Georgia's largest city and capital. Its tight-knit, community-driven way of life, diverse culture and southern charm attract families looking for an upbeat lifestyle. Foodies can enjoy a wide selection of cuisines from local mom-and-pop shops and upscale dining in the downtown area. Residents relish live entertainment and music festivals throughout the year. There is plenty to discover for families at state parks, museums, zoos, and historical sites. Atlanta is home to 29 Fortune 1,000 companies, 16 of which make the Fortune 500 list. There are economic opportunities for residents in trade, transportation, finance, manufacturing, leisure and hospitality, professional services and entertainment.
Frequently Asked Questions
Where is Atlanta, Georgia located?
With an estimated 2022 population of 5.3M people within its metro area, Atlanta is a city located in Georgia's northwest corner. Atlanta is also the state capital of Georgia.
What are the largest cities near Atlanta?
There are several large cities near Atlanta, GA. These cities include Birmingham, AL (140 miles), Nashville, TN (216 miles), Charlotte, NC (228 miles), Jacksonville, FL (283 miles) and Lexington-Fayette, KY (297 miles).
Why is Atlanta a popular place to want to live?
Many people are relocating to Atlanta because of its varied culture, inexpensive housing and flourishing business opportunities. The city has lots of open space, award-winning restaurants, decades of rich history, plus it's fun and vibrant. It's a great place to settle down and raise a family.
What are some things everyone thinks of when discussing Atlanta?
Several major sports teams call Atlanta home, including the Braves (MLB), Falcons (NFL) and Hawks (NBA). The city is known as the Capital City of the American South, City of Trees and Hollywood of the South.
What are the best higher-level education schools in or near Atlanta?
The Atlanta metropolitan area has opportunities for higher education at technical schools, community colleges and universities. A few nearby institutions include Emory University, Georgia Institute of Technology, Georgia State University, Spelman College and Agnes Scott College.
Does Terrata Homes build new houses in Atlanta?
Terrata Homes builds luxury residences in Ball Ground, GA, at The Tate Reserve. North of downtown Atlanta, The Tate Reserve is a gated neighborhood with a 25-acre nature preserve and new homes on acreage homesites. Call (833) 897-0089 today to schedule your visit.
What do residents & tourists alike love to do in Atlanta?
Like many major cities, Atlanta has countless activities for residents and tourists. You can spend your free time exploring Zoo Atlanta, Georgia Aquarium, High Museum of Art, World of Coca-Cola or Atlanta Botanical Garden.
Who provides electric, gas, and internet utility services in Atlanta?
SCANA and Georgia Natural Gas are two of many organizations that provide gas. Georgia Power supplies electricity to Atlanta and 2.5 million people statewide. AT&T, Xfinity, Cox Communications, Google Fiber and Spectrum are prominent internet providers in the area. Visit
this link
to learn more about natural gas options.
What does the job market look like in Atlanta?
Atlanta's job growth has been favorable, with employment increasing by 2.9% in the last year. In February 2022, employment is 5.3% (the national average is 6.0%), and future job growth is expected to be 46.78% (compared to the U.S. average of 33.51%). Source: bestplaces.net